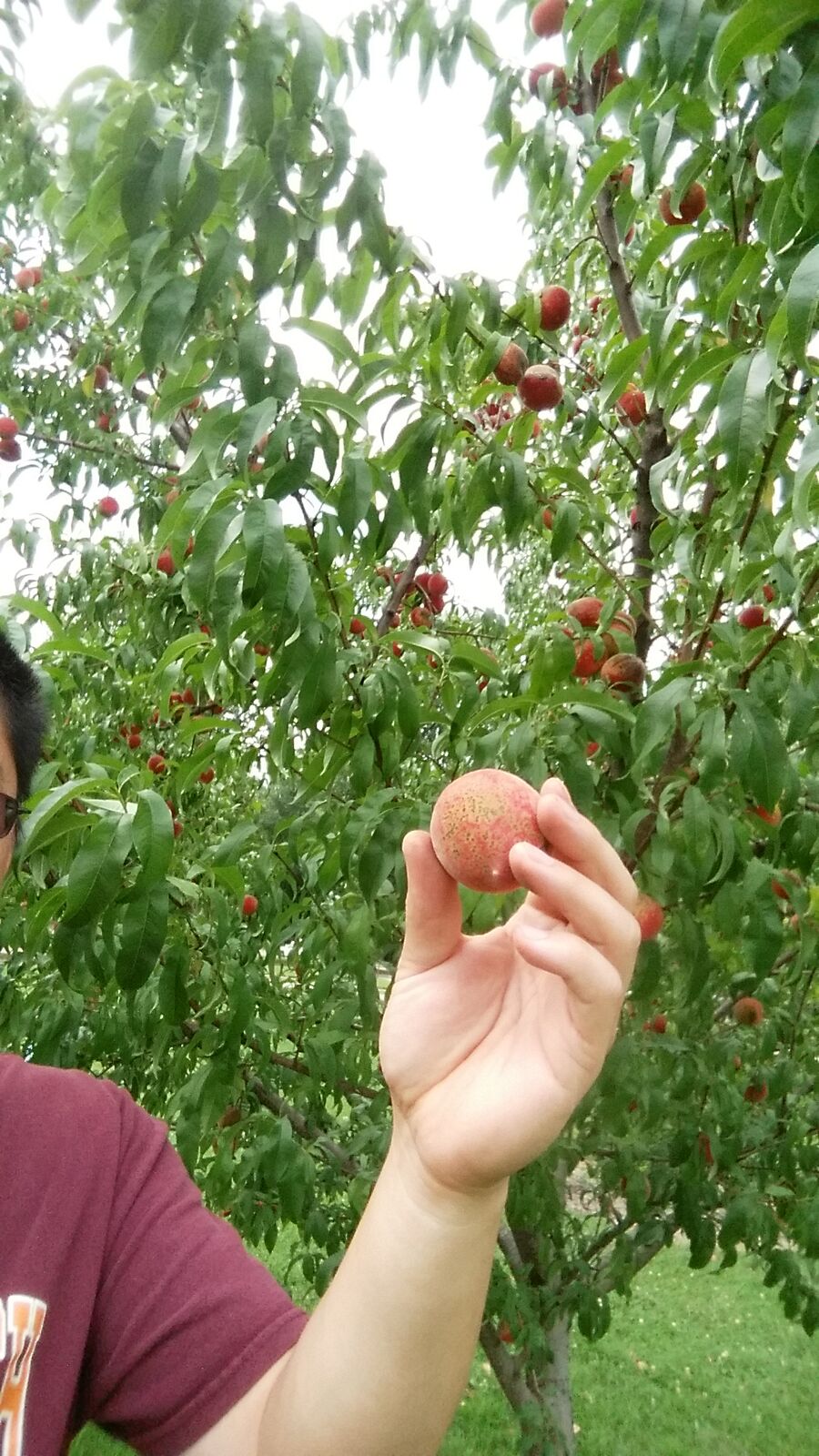 This urban orchard project was started in June 2013 partnering with Chesterfield County Virginia. Two groups of ten fruit trees were planted on a field without irrigation. One group trees were installed with TreeDiaper® system and the other group trees were installed with watering bags. Watering (with water trucks) schedules and natural rainfall were recorded during the testing period.
Results
In May 14, 2016, Plant Map published a featured article "Virginia's Chesterfield County transforms turf into an urban orchard", in which it stated: "TreeDiaper® — which have proven effective at keeping young trees adequately watered without as much maintenance and added water as typical tree bags—are still used in the orchard. The landscape has since been expanded…" The smaller plants in the lower pictures were planted in the Spring of 2016. Some of the TreeDiaper® treemats were reused.
In August 2016, the region saw 0.48" of rain. Near the end of the month (Aug 27), we checked the soil moisture on this orchard. In the grass area, soil moisture was 1-2. Under TreeDiaper® treemats, it was 8-9. Watering was not required and the trees were thriving while the surrounding grasses were dying.
Table 1. Watering cost estimation for two year maintenance.*(2013-2015)
| Cost Item, for 10 trees | TreeDiaper® | Watering bags |
| --- | --- | --- |
| Irrigation water, gallon | 0 | 1200 |
| Cost of watering devices (retail price) | $250 | $220 |
| Water cost | $0 | $20 |
| Water delivery cost | $0 | $300 |
| Labor cost for watering | $0 | $600 |
| Total | $250 | $1140 |
*Note1: Not all the costs are from actual because of accounting reasons. So some of the above figures are estimated based on available information and the standard practices and weather in Richmond, Virginia. There are possible differences with the actual cost. It may also vary with different regions as rainfall and drought conditions may vary.

*Note2: The site is only 2 miles away from the station where water tanks are refilled, which is not a typical situation for commercial landscaping and municipalities. And the County uses volunteers to some of the water. The labor of the volunteers are not considered in the costs.
UPDATE (May 2019)
The Urban Orchard has been awarded a Level I Accreditation by The ArbNet Arboretum Accreditation Program and The Morton Arboretum. And it is officially called Chesterfield County Arboretum.
Richmond Magazine Report: https://richmondmagazine.com/news/speaking-for-the-trees/
Lisa Ferrel, The County Arborist talks about the Arboretum: https://youtu.be/M_03XGjPM2M
Plant Map: https://www.plantsmap.com/organizations/chesterfield-county